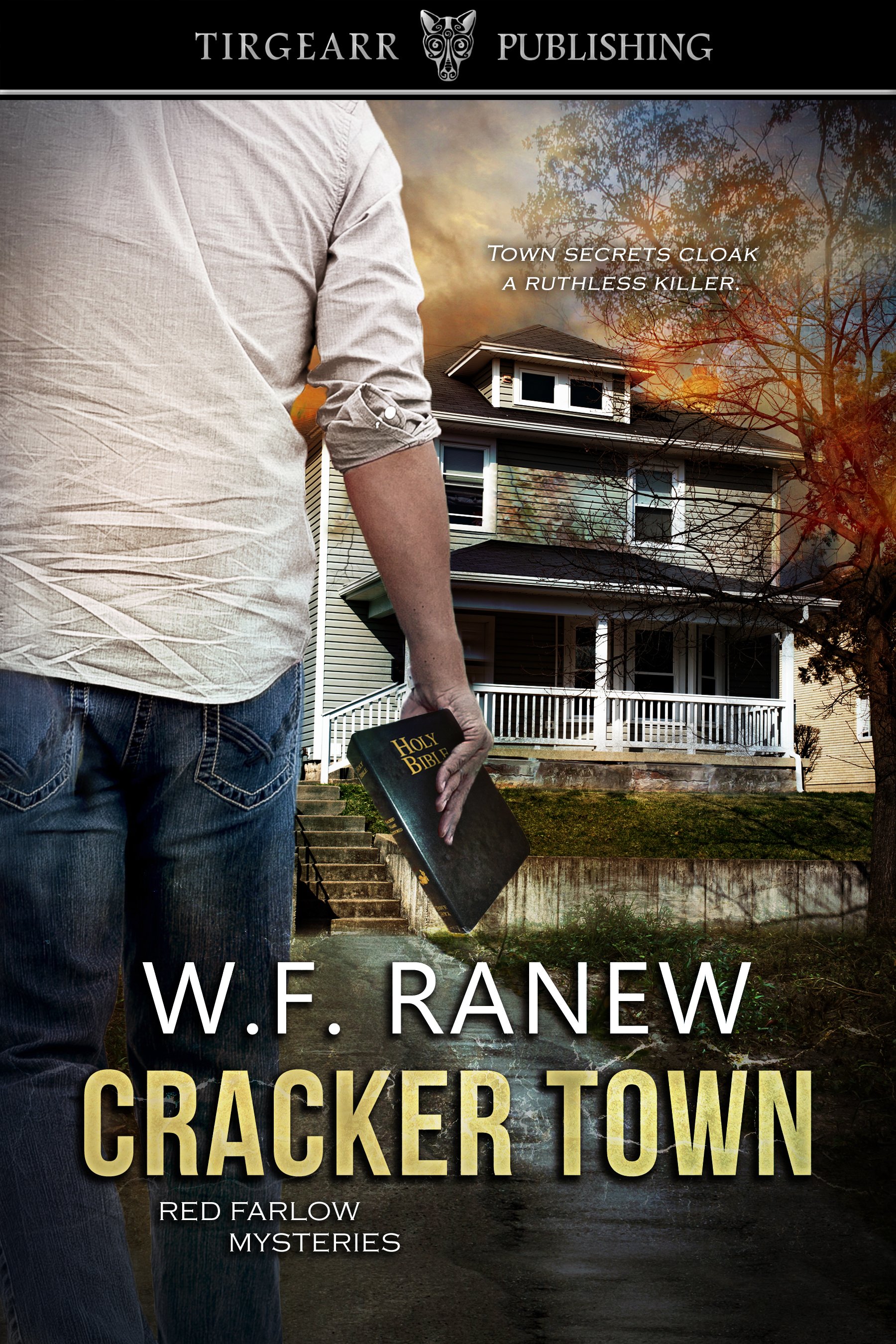 Red Farlow Mysteries, Book 5
Mystery

Date Published: 09-14-2021
Publisher: Tirgearr Publishing
Town's secrets cloak ruthless killer for decades
About the Author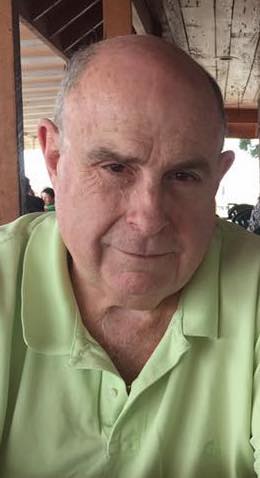 W.F. Ranew writes the Red Farlow Mysteries series from Tirgearr Publishing,
the latest of which is book five, Cracker Town.
Ranew is a former newspaper reporter, editor, and communication executive.
He started his journalism career covering sports, police, and city council
meetings at his hometown newspaper, The Quitman Free Press. He also worked
as a reporter and editor for several regional dailies: The Augusta (Ga.)
Chronicle, The Florida Times-Union, and The Atlanta
Journal-Constitution.
He lives with his wife in Atlanta and St. Simons Island, Ga.
Contact Links
Twitter: @wfranew
Purchase Links
Excerpt
Chapter One
Red Farlow's disdain for cold cases ran deep. They dredged up some long-ago, heinous murder when reopened, which haunted him at night and hovered like a black cloud all day. For months.
Unsolved crimes also reminded Red of his failures.
A triple murder from 1973 clobbered him with a phone call first thing that morning. He'd investigated a family slain at home. Neither the police nor Red found the killer.
Years later, surviving son Randolph Goings wanted to visit Red in Savannah.
The private investigator agreed to the meeting and set a time for the next afternoon.
***
Red felt the day's heat after he got up the morning of his meeting with Goings, and the cold case burned inside his head.
The day broke as warm as the previous evening, and by seven that morning, the thermometer outside his office window read eighty-five degrees. But he couldn't complain, as the sky was mostly clear, save for nimbostratus clouds gathering to the east. No doubt, they dumped rain miles offshore in the Atlantic Ocean.
He checked his phone weather app's radar, and, sure enough, the rain clouds headed his way.
Red pictured Randy Goings at age eighteen in the early seventies. As a young GBI agent, Red investigated—with his boss, Matthew Bailey—the murders of three family members in Valdosta, Georgia. Randy was the son who discovered the bodies of his parents and young sister.
That was decades past. Red figured Randy would be in his sixties.
Red stepped out his front door. It was a good time to walk the sidewalks and squares of the old southern city. He had other things to attend to. Red picked up the morning newspaper and fondled its rubber band. Birds sang. Cars chugged around Chippewa Square behind the slow trot of a mule-drawn carriage filled with sightseers. The trollies rattled past, always running behind schedule, and carried countless other visitors for their jump-off, jump-on adventures in the old city.
Soon, the day would boil up to around ninety-five. But right then, a tolerable one in the morning's Atlantic breeze.
He stepped back into his house and opened up the paper as he walked into the kitchen for coffee.
After his brief phone conversation with Randy Goings, Red had doodled his memories of the triple murder. No suspects were arrested. No one held accountable. His hand and pen moved across a clean notebook sheet. A circle started out with a dot and moved into a spiral. He retraced the curved lines, keeping the drawing smooth in places and jagged in others. Blotches from the pen formed, and he moved his nib around in the tiny puddles, spreading the ink to fill in any gaps.
Soon he'd filled the page with near blackness.
A haunting image.
In the morning, Red went about his daily routine, following up on current cases. At one point before noon, he lapsed back into the old case with a productive intent. He thought about and wrote what he remembered about the family in Valdosta.
Picking up his notebook and pocketing the fountain pen, Red walked down the street for a ham and cheese baguette for lunch and returned to eat at his desk. Thirty minutes later, the doorbell dinged.
Red walked downstairs and, on the way to answer the bell, admired a vase of fresh daisies that sat on a wood pedestal of unknown but stout vintage. His wife Leigh insisted on an array of blossoms in her psychotherapy practice's waiting area.
He opened the door and greeted a tall, gray-haired man in blue slacks and a white shirt. A beautiful woman dressed in a pale peach suit stood beside him. The man carried what appeared to be a large aging briefcase, whose sides bulged against a brass latch.
"Mr. Farlow, I'm Randy Goings," the man said.
"Good morning. Come on in the house," Red said and nodded to the lady. "Ma'am." He took note of Randy's polite formality. "Please, Randy, call me Red."
"Red, this is my wife, Linda Barrett-Goings," Randy said.
"It is my pleasure, Linda. Won't you both please step up to my office?"
They followed as Red led the way up the eighteen-eighties staircase to a spacious room overlooking the square.
"My goodness, the private investigations business must pay pretty well," Randy said. Red noted the formality seemed to have eased a bit.
"This is my wife's family home," Red told them. "She generously allotted space to me after we married a few years back. She's a psychotherapist. Her office is on the first floor, as you may have noticed from that brass plaque by the front steps."
"I find that very interesting, Red," Linda said. "I'm a psychology professor at Emory in Atlanta."
He took in Linda's bright smile.
"Well, welcome to Savannah," he said. "What can I get you in the way of refreshment? I have iced tea, coffee, a variety of fizzy and still waters, and the best espresso this side of Ditta Artigianale in Florence, Italy."
Randy and Linda laughed. She asked for a seltzer and Randy coffee.
The Goings went into Red's office and sat together on his sofa. In a few minutes, Red came in with a tray of the drinks. He returned to the kitchen and prepared two doppios of espresso for himself.
They broke the chill of the impending conversation with talk about Savannah. Red already knew the thin, icy path, of course. It came with bad memories frozen over by decades of mourning. The kind you know that in the crying, you can't bring your loved ones back. But still, those left behind shed tears. For years.
"Red, I remember the first time we chatted, right after that horrible night," Randy said. "In the whole experience, you were the kindest, most sensitive cop who interviewed me. And believe me, I got a lot of tough questions from some hardnosed police detectives and sheriff's deputies. They, of course, went on the absolute notion that I killed my family. You and Agent Bailey disabused them of the idea. I thank you for it."
Red nodded as he looked at the couple. He saw well-educated, successful people. People who likely spent their entire careers in a city.
"We're here to speak with you about my tragedy so many years ago," Randy said. Linda took a tissue from her purse. "My family's killer was never found, as you know. We want the case reopened and examined from information I have in my father's files. Too, we think modern crime-solving technology might help to track down the person or people who did this."
Red sipped his espresso. "First, Randy, tell me something of what you found in your father's files," he said. "Then, we can discuss the techno stuff." Randy brought up his worn briefcase, similar to ones Red had seen many times in courtrooms and not unlike his battered leather satchel.
"My father left a substantial number of files," Randy said. He withdrew a folder without opening it. "They include his own manuscripts and articles for professional journals. And his personal notes about patients he saw at Central State Hospital. For many years, I ignored the many boxes. Right after the funeral, the college called and asked that I clear out my father's office. Luckily, he'd only been there a few months, and most of his hospital files remained in our house."
Randy's tone became more solemn as he spoke.
"When did you start plowing through these?" Red asked.
"That's a long story," Randy replied. "First, let me tell you I am nearing retirement from the Bernstein, Robb, Goings, and Whaley law firm in Atlanta. I'll remain available for client matters for many years as life allows."
Red nodded. He listened.
"For a long time after the murders, I ignored the files," Randy went on. "But I started going through them, one box at a time, about ten years ago."
He paused and looked down at the brown-speckled folder in his lap and, with his right index finger, tapped hard on the file two or three times. He appeared close to tears.
"I found the patient notes to be interesting," Randy said and paused. Collecting himself, he went on. "I could not resist delving into them despite Linda's precautionary advice that I should not. I did this not out of some voyeuristic thrill of reading about other people's secret lives. Rather, I wanted to find threads that might lead to my family's murderer or murderers."
Red arose and fetched more coffee for Randy. Linda had barely touched her water. He soon returned with a carafe.
"Did you think going in that a patient might have killed them?" Red asked as he poured the black liquid into his client's cup.
"I saw that as a possibility, yes," Randy said. "Most of his patients were incarcerated for their mental illness after committing a crime. Not all, certainly, but many were killers, whether by rage or perhaps because of their mental condition."
He picked up his coffee and sipped. "I thought one of his patients might have threatened him or revealed why someone killed my family. And who committed the crime. Admittedly, I batted around in the dark. Understand, I'm a trust and estates attorney, not a criminal lawyer, and unsure of what I sought."
Randy shook his head in frustration.
"What have you found thus far?" Red asked.
"Just this. A man whom my father counseled claimed authorities wrongly incarcerated him for a murder in south Georgia," Randy said. "Now, I know most prisoners say they didn't do the deed that got them where they landed. However, this man offered details in his statements of who killed a young woman back in the fifties."
Red's mental bells went off. "Tell me more, Randy."
The attorney related the story pieced together from his father's notes. Over several years, a patient talked endlessly about why he was sent to Milledgeville and how it was a mistake. The man had mental issues as a child. According to Walter Goings's notations, people regarded him as a "retard" and slow learner. The man had a below-average IQ, but he was able to perform certain tasks at school.
"Do you know who the patient was?" "That's the thing. My father didn't include any real names in his notes," Randy said. "He had his own system of keeping the files ordered by nicknames he applied to each patient. For anonymity, given the sensitivity of the information. The man in question was called 'Bible Salesman,' who sold the Good Book in a place named Cracker Town."
***
Two hours into their meeting, thunder clapped over the house. In a few minutes, a cascade of rain thumped against the window panes and pelted the sidewalk and street below.
Nobody commented about the sudden downpour.
"Any clue as to where this patient was from?" Red asked. "Cracker Town stirs some familiarity. Have to think about it."
"No," Randy answered. "What I am hoping to find is a legend matching the client's nicknames with full names. From that, we should be able to track down other information about them through state archives."
Red considered Randy's line of reasoning. He regarded state records as a major source of intel. By law, medical records were private. Thus, accessing the files, even if found, might prove difficult. Also, the state destroyed records every ten years.
"You have a plan. But as you said, the key is finding out that name and the patient's hometown," Red said. "As to the technology side of solving cold cases, DNA has reopened a lot of criminal profiles. Past crimes have been solved, and many wrongly incarcerated people have been set free. DNA also has tracked down people who escaped initial judgment for their criminal activity. First off, have you asked the state to reopen the case?"
Randy shook his head. "Yes, but no such luck, Red. A defense attorney in my firm approached the state on my behalf. They told him nothing doing without clearcut evidence about the patient's alleged crime. His contact also cited the number of years that have passed."
Wind gusts tossed trees on the square below and thumped against the windows.
Red asked how much they knew about DNA in criminal cases.
"That's what Linda and I have been discussing," Randy said. He turned to his wife.
"Red, we've known someone at the state crime lab for years. She filled us in on the reality of DNA criminal identification," she said. "We know that obtaining the samples might be a challenge, particularly from people who've been dead for many years."
Red nodded and suggested the place to start was arranging for Randy to submit a DNA sample for analysis.
"After that, we need to try to locate any DNA records of, say, the mother of the young woman who was killed," Red said. "Roadblocks and decades aside, we can give it a shot. All of what you say strikes familiar chords. I remember something about a young woman killed in the mid-fifties from my investigation into your family's deaths. She lived and died in Cracker Town, a Damville, Georgia neighborhood. I'd have to consult my files to determine if her case is relevant."
Randy's voice wavered. "Add to that, Red, my other little brother or sister to be. Killed in my mother's womb." Tears rolled down his cheeks. He retrieved a white handkerchief from his pants pocket and wiped his face.
"I'm so sorry, Randy," Red said. "You suffered so much at a young age."
Suddenly, the downpour subsided and settled into a steady rainfall. Randy shook his head. "I never imagined this would be so difficult. All of the horror of those days, weeks, months, and even years come tumbling back."
After a pause in the conversation, Randy asked where the bathroom was. Red directed him down the side hall to the back of the second floor.
Red and Linda sat in silence for a few moments.
Red spoke first. "He's a very lucky man to have you, Linda," the private detective said.
Linda smiled. "Red, you just can't imagine, but I am the lucky one."
Randy returned and sat down. From his briefcase, he withdrew another manila folder, its fresh color contrasting with the older file. "To get started, I've copied some records and notes for you to review. On top is the patient 'Bible Salesman.' Several others are underneath his."
"What drew you to Bible Salesman's file?"
As the rain continued, a glimmer of sunlight streaked through the window.
"As I read the person's profile, I presumed him to be a male first of all. My father only counseled men in the prison area, or so he told me," he said. "The notes tell a story that convinced me this man might be innocent of killing the young woman, wherever that occurred. Certainly, I'd like your impressions after reading all of these, but Bible Salesman grabbed my interest immediately."
Randy expressed his doubts that any of the others in his father's file could have done him wrong. Several had died.
"If they passed away and my father marked their files as such, I didn't include them for you to review," he said. "In fact, I didn't review any of those."
Randy handed the folder to Red, who suggested he have a week or so before their next meeting. He asked Randy to arrange to provide a DNA sample.
They also discussed Red's fees and expenses, which Randy agreed to without any questions. He wrote a two-thousand-dollar check to get started. Red gave him a contract to review and sign before they met again, along with a receipt for the initial payment.
"Don't know your schedule, but I have to be in Atlanta in ten days. Tuesday, the twelfth of September," Red said. "Might we meet Thursday or Friday?"
Randy checked his phone calendar. "Yes, why don't we meet at my Midtown office on Thursday?" He handed Red a card with the address. "You know the building?"
"Indeed, I do," Red said.
"I'll see you there at two then," Randy said.
Thunder rumbled. Rain started again in earnest.
They rose from their seats, and Red escorted the husband and wife downstairs. Red handed them his big golf umbrella for the wet walk to their car.
Savannah's beautiful summer day had turned into the more typical weather of the season. He'd have to check on the tropical storm developing several hundred miles east of Puerto Rico. A hurricane potentially in the making.
***
Red settled into his seat after dinner out with his wife, Leigh. They tried a new seafood restaurant in a shopping mall. They swore never to return.
Besides eating bad food, they got drenched in the storm.
Now freshly showered and in dry, comfortable clothing, Red looked out the window at the rain falling on the square.
He opened the file folder with pages from Walter Goings's counseling days at Central State Hospital and thumbed through the sheets, all brittle and some torn. Red looked for links to south Georgia and anything indicating tension between patient and therapist. He found very little about anyone who might want to harm Doctor Goings.
The fourth file he picked up was code-named Bible Salesman.
The man spoke a great deal about the agony of growing up in a small, unnamed town somewhere in Georgia. The man described the ups and downs of his education. He told of one teacher who tutored him after school for several years. When she left his life, he gave up on his education and dropped out of school when he was fifteen.
The notes also described the man's years in the hospital. There Bible Salesman learned about lunacy boards, which presided over countless criminal suspects and ruled they'd be better off in the state mental hospital than a prison. A judge convened a lunacy board and sent Bible Salesman to Milledgeville for treatment after his arrest on suspicion of a young woman's death.
The patient didn't know why the lunacy board in his county sent him there. He just didn't understand how things like that worked. Walter Goings tried to explain it all to Bible.
Red scanned the other files. According to Doctor Goings's notes, one patient had been abused by his mother when he was eight years old. He later killed his older sister.
Another account described a child's mutilation by cigarette burns. The man murdered his mother and grandfather for their mistreatment.
There were serial rapists. A congregant allegedly assaulted his pastor's wife after she refused to drink battery acid in a North Georgia church service. The notes in this file told a story of sexual abuse, but it was unclear who actually forced themselves upon whom. Did Doctor Goings's patient assault the woman or had the pastor's wife herself abused the man as a teenager? Murky waters.
A lot of accounts raised many questions; few answers came forth.
It was almost midnight when Red decided to pack it in and start again the next morning.
As he straightened the files, a torn piece of newsprint fell out of the stack. On it was written a brief note in a shaky hand. "Sorry I mist you Doctor Going. See you soon. Cleet."
The bells tolled in a far-off place inside Red's brain.
Cracker Town.
And Cleet.
Ah yes, Cleet Wrightman.