Rating
About the book
Alden McCausland and his mother are what they call "accident rich"; thanks to an unexpected life-insurance policy payout and a winning Big Maine Millions scratcher, Alden and his Ma are able to spend their summers down by Lake Abenaki, idly drinking their days away in a three-room cabin with an old dock and a lick of a beach.
Across the lake, they can see what "real rich" looks like: the Massimo family's Twelve Pines Camp, the big white mansion with guest house and tennis court that Alden's Ma says is paid for by "ill-gotten gains" courtesy of Massimo Construction. When Alden's holiday-weekend sparklers and firecrackers set off what over the next few years comes to be known as the Fourth of July Arms Race, he learns how far he and the Massimos will go to win an annual neighborly rivalry—one that lands Alden in the Castle County jail.
---
Review
This one was pretty cool, for being so short.
I loved the plot there about the fighting of two families and how the other ones where like actively not helping on that lake really.
Totally fun read for the summer, was so nice and the problem of the new rich and the real rich relatable in a lots of ways, you see it everyday everywhere even with people that just has a little more than you or less it was interesting.
---
About the author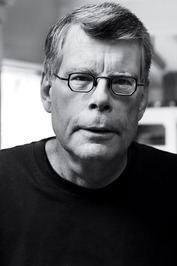 Stephen Edwin King was born the second son of Donald and Nellie Ruth Pillsbury King. After his father left them when Stephen was two, he and his older brother, David, were raised by his mother.
Parts of his childhood were spent in Fort Wayne, Indiana, where his father's family was at the time, and in Stratford, Connecticut. When Stephen was eleven, his mother brought her children back to Durham, Maine, for good. Her parents, Guy and Nellie Pillsbury, had become incapacitated with old age, and Ruth King was persuaded by her sisters to take over the physical care of them.
Other family members provided a small house in Durham and financial support. After Stephen's grandparents passed away, Mrs. King found work in the kitchens of Pineland, a nearby residential facility for the mentally challenged.