Author: Peter J. Thompson
Narrator: Greg Tiedemann
Length: 10 hours 24 minutes
Publisher: Peter J. Thompson
Released: Dec. 19, 2018
Genre: Suspense


Government secrets. Biological weapons. Human subjects.

In a top-secret complex surrounded by miles of Texas scrubland, the United States military is working on a new form of germ warfare. Taken from homeless shelters and prisons, the subjects, discarded men and women of America, serve their country as unwilling lab rats.

Ramon Willis didn't commit the murder that put him on death row. But he's guilty of something worse – surviving the virus and escaping his captors. Knowing he can't take on the corrupt system alone, there's only one person he can turn to – Lena Dryer, the reporter who covered his case and watched him die.

With assassins dogging their trail and all their options for survival closed off, they must risk everything to bring this conspiracy to light. But time is short. When an extreme faction in the government pushes forward with the next phase of their plan, the fate of the nation hangs in the balance.





Peter Thompson grew up on the east side of Chicago, in the shadow of the steel mills where the air was sooty and smelled of sulfur. His life wasn't always so gritty, but the grit and realism finds its way into his thrillers. He has always loved stories of every kind, and one of his joys is finding a way to get inside character's heads, seeing the world as they see it and feeling their triumphs, pain, and fear. He visualizes his characters when he writes, and they are larger than life in the big screen of his imagination.
Before pursuing his passion and becoming a full-time author, he tried his hand at everything from factory work, breaking cement in a construction crew, running his own pizza shop, and he was a well-regarded presence in the mortgage industry for nearly thirty years. When he isn't writing, Peter loves, spicy food, live music, and exciting and thought-provoking books and movies. He is a fitness buff who loves to spend time with his grown sons and is looking forward to traveling the world and seeking adventures with his lovely partner.
To get in touch, find out more about future projects, please stop by www.authorpeterthompson.com. Sign up for his reading list to find out about new releases and receive free perks.

Gary Tiedemann is a full-time voice-actor and narrator of audiobooks, with over 60 unabridged titles narrated and counting. He has voiced countless commercials and multimedia productions in addition to spending over 10 years on stage performing improv, sketch comedy and original works of theatre. Gary is a graduate of Tulane University in New Orleans. He currently splits his time between Florida and Chicago. See more at www.garytiedemann.com

I received this audiobook as part of my participation in a blog tour with Audiobookworm Promotions. The tour is being sponsored by Peter Thompson. The gifting of this audiobook did not affect my opinion of it.
It was pretty cool actually, the beginning was reasonable and well explained to set the motions for the next part of the plot that went on in a good progressive pace and picked up at the end.
The characters were interesting and have depth and were relatable in they own ways each one, I did felt bad for Ramon, he was wronged in so many ways but did find what he needed in the end and went on with his life.
What it was more appealing to me was the combination of political and conspiratorial thriller it was, it did have a little of various things that kept me going wondering where this all was going and the ending was pretty good actually it leaves you with something to think about of how the story will find a way to others.

Profile of Ramon Willis, Protagonist of Living Proof
Ramon Willis, a wrongfully convicted death row inmate, is about to die. At thirty-two years old, he has spent nearly a third of his life in prison for a murder he didn't commit. His time on death row is now nearing an end. He's exhausted all his appeals and there is no chance of a pardon. His execution is scheduled for the next week, but he has accepted his fate and is prepared to die.
Ramon had changed a lot since being sent to prison. He was older of course, and much stronger and healthier looking, despite the starch and fat that served as a diet here. He worked out constantly in his jail cell to pass the time and improve his body. But if someone had known him before they would surely recognize him now. Ramon had a distinctive look. From his Mexican mother he'd inherited his high cheek bones and bronzed complexion. From his father he'd gotten his eyes. Deep blue eyes that caused people to do a double take. Viking eyes in an Aztec face.
In other ways, he'd changed more. It was his attitude mostly. He felt different, he thought different, he acted different. Ramon believed the measure of a man was how he responded to adversity, and thought he measured up well. Death row is the end of the line. Once a man is sent there, he might as well give up his humanity at the door. It's filled with society's ultimate losers, and being caged together doesn't bring out their finest qualities. But Ramon had responded to prison as a wakeup call, too late, saying his life had to change. He wasn't the same person he'd been ten years ago when he first entered this prison. Not that it mattered, they were about to kill an innocent man.
But this was before he met Lena Dryer, the reporter doing a story on the workings of the Texas death row system. Before he'd sensed a connection with her, a deep understanding. This was before Dr. Meeks, the prison doctor, examined him, and he'd sensed something wasn't right. Ramon thinks this is his final week, but his execution is just the beginning of his story.
Top 10 Reasons to Listen to Thriller Audiobooks by Author Peter Thompson
You don't get hand cramps from turning the pages so fast.

If you are listening in the car, you will wonder how you got to your destination so fast as the time flew by.

If you are listening while exercising, you don't have to work as hard as the story keeps your pulse rate pounding.

Housework becomes a joy when you are listening to a fast-paced story.

Listening to a good thriller, you can have an adventure anywhere.

A great thriller audiobook is like having a movie playing in your head, and it keeps your hands free to eat the popcorn.

You forget about all your worries when you're focused on a great story and your problems seem tame when faced with life and death stakes.

Why watch reruns on TV when you can get totally drawn into a great thriller?

There are few things more fun than being the first one to share a great story with your friends and coworkers.

And the number one reason to listen to thriller audiobooks is …

When you have a great thriller like Living Proof, you don't have to put it down and can listen to it anywhere.
Q&A with Author Peter Thompson
Tell us about the process of turning your book into an audiobook.

I've always loved audio books, going back to when they were on cassette tape. Listening to an audio book creates a movie in your head, and I wanted this experience for my novels. I worked with ACX to create the Audiobook and it was a great educational experience. My plan was to release three stand-alone thrillers, one after the other. The first novel was Living Proof, and I put that up for audition, asking for samples with parts of three different scenes. The idea was to see how the narrator handled different situations. One part was the beginning, because it has to sound great to hook the listener. The second was an action scene, and the third was a conversation with the lead and co-lead, so I could hear how the narrator handled the back and forth and the gender switch. It was more involved than a lot of auditions, so I was amazed at the response. I only had it up for a few days and I turned it off at about 70 auditions. I listened to the full audition from each, and there were a lot of talented narrators. Some would nail one section, though, and sound weaker in another. I narrowed it down to three that I liked a lot, and asked for one more sample from each. Gary Tiedemann stood out from the others, and he was enthusiastic about the project. He has finished the narration on all three projects now, and I love the way he tells the story, and makes the characters come alive. He is in the top tier of narrators and I know I was lucky to find him.
Do you believe certain types of writing translate better into audiobook format?

I do. Any story that really stimulates the senses is a great candidate for audio. By that, I don't mean flowery language, but stories that are visual make great audio. When you are listening to a story, you start playing it out in your head. It becomes a movie in your mind. With a good narrator and a good story the words fall back and the images take over. Good conversations crackle. A good narrator makes the characters real.
Was a possible audiobook recording something you were conscious of while writing?

Not specifically, but I loved listening to audio and I was aware of the potential. I have always been part of a writer's group and part of that process is reading your work out loud. You get a different feel for your own writing when you speak it. There's been times when I've read over a passage and thought it read fine, but it sounded clunky when read out loud. So I think it's important to pay attention to how the story sounds as well as reads. It's exciting to hear my story in finished audio, and I hear it with a greater appreciation, and it sounds fresh to me.
How did you select your narrator?

Gary Tiedemann is my narrator, and he is a true professional. I found him through ACX. I'd put up an audition and received over 70 applications in the firs few days. I asked each narrator to give a sample to see how the narrator handled different situations. I had them read part of the beginning, part of an action scene, a fight, and then a conversation between the male and female leads. Some people sounded great in parts, but didn't fit in as well with others. Gary was one of the ones that stood out in every type of narration, and someone I knew I would enjoy listening to through the full journey until the end of the book. I narrowed it down to 3 narrators and had them read a bit more. Again, Gary stood out. We've worked together on three projects now, and I think we'll be working together for a long time to come. He has a big fan base now, and I know he is going to be a big name in the audio field as time goes on. I am thankful to have found him.
How closely did you work with your narrator before and during the recording process? Did you give them any pronunciation tips or special insight into the characters?

Gary reads the book first, takes notes, and then we have a conversation before he puts anything down. If he has any questions or concerns about a particular character, we go over it so we are on the same page. Pronunciation is more of an issue if you are doing something science fiction based or set in an exotic location. Still, if anything could be interpreted in different ways, he clarifies it with me first. Once he starts recording he will lay down the first couple of chapters and I will listen. Again, just to make sure we are both on the same page going forward. This approach works great for turning out a strong story.
Were there any real life inspirations behind your writing?

I have written about real life situations, but honestly, my life is pretty boring. I write thrillers and my goal is to get the emotions flowing, to keep readers turning the pages or have someone sit in the car, not ready to turn it off until they finish the scene. That means bigger than life characters, or real characters in a situation that most people would never encounter in real life. I don't as a rule write about what has happened in my own life, but I do try and keep the emotions real. When I write I try and put myself in the character's shoes and have a real, honest reaction. I think that's one of the things that get people invested in a novel, they feel the characters are real, and in a way, they are livimg out these situations themselves.
How do you manage to avoid burn-out? What do you do to maintain your enthusiasm for writing?

I love to write and I try and write something every day. But the truth is, I am a streak writer. When a story really gets me, I can't get it out of my head. I live it all the time, and can't wait to get back to my keyboard to see what happens next. That is a wonderful feeling when a story takes control and the writing is flowing. When that happens it feels like I am taking dictation, the story is really writing itself.The characters take over and I am surprised by what ends up on the page. Unfortunately, this isn't the norm. A lot of times I'm struggling to get something moving. Some days I will sit for hours, straining to get something down. This can be frustrating, but the key is to keep going. At some point it seems to catch fire and the story writes itself. As a writer, that is pure joy.
Are you an audiobook listener? What about the audiobook format appeals to you?

I am and have been for years. The great thing about audiobooks is you can listen to them anywhere. I am a full time writer now, but for years I was in sales and a lot of my time was spent driving. I used to listen to books while driving between appointments. It was a great way to read, and I think more and more people are catching on to the magic of being able to take time that would be wasted and putting it to a better purpose. It is a wonderful way to be entertained and doing something else at the same time.
Is there a particular part of this story that you feel is more resonating in the audiobook performance than in the book format?

I'm not sure if it is more resonating, but I really enjoyed listening to the climactic scene really come alive in the audio format.

Feb. 17th:
Feb. 18th:
Feb. 19th:
Feb. 20th:
Feb. 21st:
Feb. 22nd:
Feb. 23rd: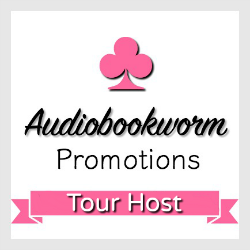 ➜Sign up as a host here