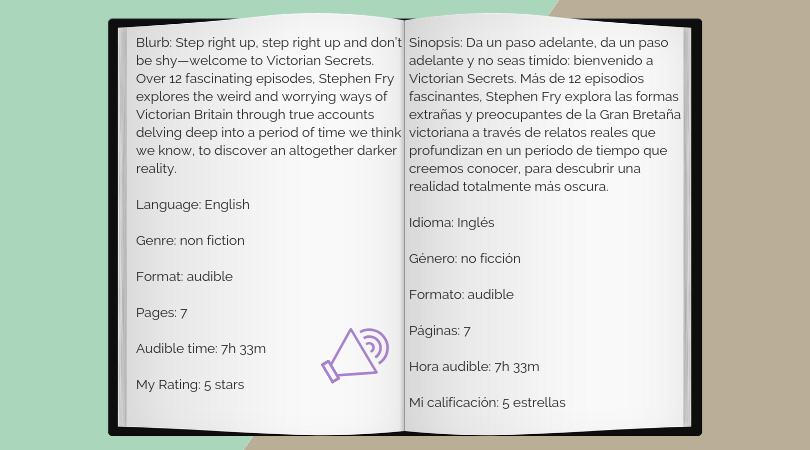 Review
For not hearing much of nonfiction this one, was amazing, i really liked it so much.
It was a compendium of various stories and secrets from Victorian London, that make quite the interesting narration.
One of my favorites was episode 8 so many secrets they have, I think the 8 is my favorite since they talk about Oscar Wilde and he is one of my favorite authors, he was always so controversial.
Beauty and Beards was a fun one, with Stephen hushing the girl doing the advertising of forever young, I laugh so much. but an interesting way for cosmetics and spas to begin.
Victorian underground were shocking how did this people lived like that waoo and interesting the way cremations were saw on those times.
Afri victorians was an interesting one, those methods for liberty though how harsh that times.
Forty Elephants and other dangerous womans, this one I loved too, since it was interesting how these women were so resourceful on their tactics and everyone just overlooked them for so many years.
The last one Secret Sherlock was perfect, I now intend in hearing a little more of this series of books, they sound fun and supér controversial and curious.
The asylum one was interesting and insightful on some things from this era and well they were quite the handful, poor souls.
Woman to woman was pretty curios one and this women did have a lot of troubles on this era for what they preferred but they were good at keeping those preferences a secret for what it seems, but diaries always spilling out all the beans.
The one of Senace, Science and Messiahs was quite interesting since I always have been a paranormal lover so I liked this one a lot and the thing with the sisters was a well done scam in this era.
Secret sherlock was fun and cool, I want to read more books on this series already, they took sherlock to another level with this tids and bits of information.
In an all a very good compilation of stories narrated by Stephen Fry, totally loved it.
Para no haber escuchado mucho de no ficción, esta fue increíble, realmente me gustó mucho.
Fue un compendio de varias historias y secretos de Londres victoriano, que hacen bastante interesante la narración.
Uno de mis favoritos fue el episodio 8, tantos secretos que tenían, creo que el 8 es mi favorito ya que hablan de Oscar Wilde y él es uno de mis autores favoritos, siempre fue tan controvertido.
Bellas y Barbas fue divertida, con Stephen cortando a la chica haciendo la publicidad de siempre joven, me rei mucho. Pero una forma interesante de cómo comenzaron los cosméticos y spas.
El estilo victoriano de la clandestinidad me sorprendió, cómo esta gente vivía así y lo interesante que era la forma en que se veían las cremaciones en esos tiempos.
Los victorianos de África fueron interesantes, esos métodos para la libertad fueron muy duros.
Cuarenta elefantes y otras mujeres peligrosas, esta también me encantó, ya que era interesante cómo estas mujeres eran tan ingeniosas en sus tácticas y que todas las pasaron por alto durante tantos años.
El último Secret Sherlock fue perfecto, ahora pretendo escuchar un poco más de esta serie de libros, suenan divertidos, super polémicos y curiosos.
El asilo era interesante y perspicaz sobre algunas cosas de esta era y, bueno, eran bastantes y pobres almas.
El amor entre mujeres, fue un capítulo interesante, tenían muchos problemas en esta era por lo que preferían, pero eran buenas para mantener en secreto esas preferencias por lo que parece, pero los diarios siempre revelan todo.
El de Seance, Science y Messiahs fue bastante interesante ya que siempre he sido un amante paranormal, así que me gustó mucho este y la cosa con las hermanas fue una estafa bien hecha en esta era.
El secreto de sherlock fue divertido y genial. Quiero leer más libros sobre esta serie, ya que llevaron a sherlock a otro nivel con esta información.
En una recopilación de historias muy buena, narrada por Stephen Fry, me encantó.