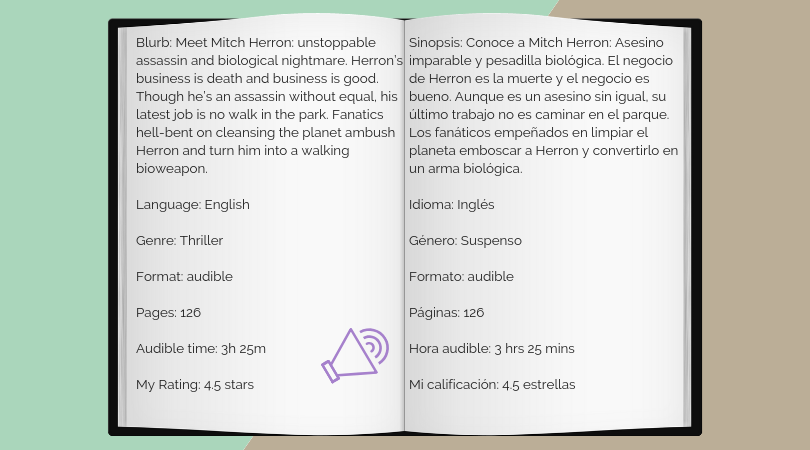 Review:
This one I won it on a raffle to review it and omg, it didn't let me down, I want to know what else will happen with Mitch.
Mitch is not you usual antiheroe either, a hitman gone superhero was quite interesting for me or maybe it was just Mitch personality he was pretty cool and pretty I don't know sarcastic maybe, he was a very complex guy.
The addition of the doctor that will be like a side partner to him was something I actually liked, made him more human, and I like that Mitch wasn't just killing for the money but for doing some actual cleansing in this world.
I think I will stay with Mitch a long time or at least until I finish all the books he on, they're super fun and amazing.
Reseña:
Este lo gané en una rifa para revisarlo y no me decepcionó, quiero saber qué más sucederá con Mitch.
Mitch no es tu antihéroe habitual, un superhéroe Hitman desaparecido fue muy interesante para mí o tal vez fue solo la personalidad de Mitch. Era muy bueno y bonito. No sé que tal vez sea sarcástico, era un tipo muy complejo.
La adición del médico que será como un compañero para él fue algo que realmente me gustó, lo hizo más humano, y me gusta que Mitch no se limitara a matar por dinero sino por hacer una limpieza real en este mundo.
Creo que me quedaré con Mitch durante mucho tiempo o al menos hasta que termine todos los libros en los que se encuentra, son súper divertidos y sorprendentes.