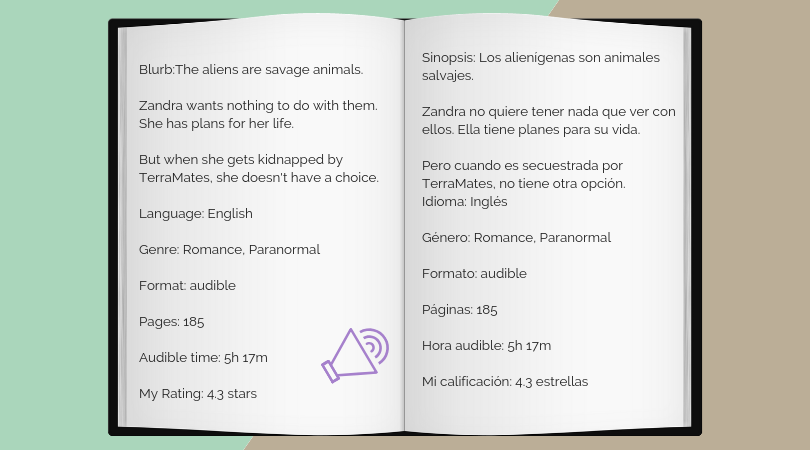 Review:
I received this book for my honest review.
This one for me was interesting, it was so dark in some things, I mean kidnapping is not a good thing anywhere.
I liked Sandra she was a strong one and had a lot to say and do to better this planet, and poor Jurgen, I think of him as a puppy, strong sometimes and so lost at others.
I liked the idea of him being so feral, but i do hope they develop a little more, the monster in the mountain was a good touch, pretty cool and as always lots of misunderstandings and rescues.
I always will love this plots, they're so fun to read or hear, and they all have so many different ways to see things.
Will wait for more.
Reseña:
Recibí este libro para una reseña honesta.
Este para mí fue interesante, estaba tan oscuro en algunas cosas, quiero decir que el secuestro no es algo bueno en ninguna parte.
Me gustó Sandra, era fuerte y tenía mucho que decir y hacer para mejorar este planeta, y el pobre Jurgen, pienso en él como un cachorro, fuerte a veces y tan perdido en otros.
Me gustó la idea de que él fuera tan salvaje, pero espero que se desarrollen un poco más, el monstruo en la montaña fue un buen toque, bastante genial y, como siempre, muchos malentendidos y rescates.
Siempre me encantarán estas tramas, son muy divertidas de leer o escuchar, y todas tienen muchas maneras diferentes de ver las cosas.
Esperaré por más.