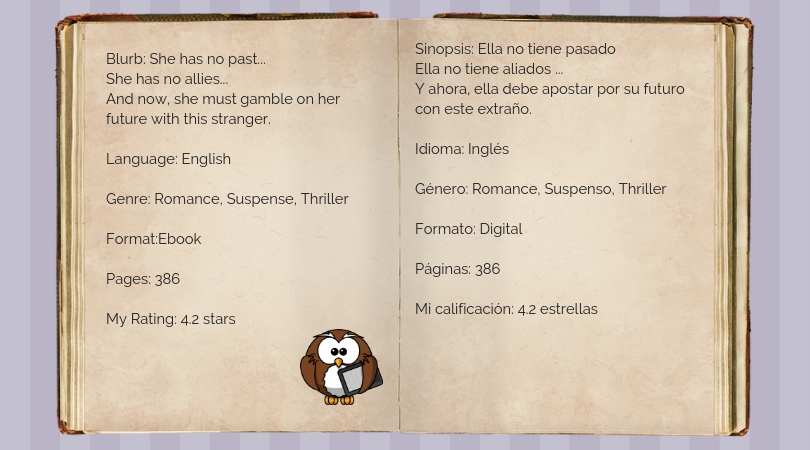 Review: I received this book of my own free will, in exchange of my honest review.
Well this one, I found it on tomoson reviews and actually I don't regret asking for it.
The plot was very catchy and interesting, at the beginning I didn't really understood how the plot was or what to make of it, but as time went by and I began to put all the pieces together it make more sense and it began to enthrall me a lot.
The characters were very interesting once you get to know them and their circumstances, it was a little harsh that Gabi our protagonist just wake up knowing nothing it was like what happened? and then you actually do have some flashbacks and begin to tie all her life together.
Now I do know this will be a trilogy and I actually want to know a little more as to what happened to Miller, and other characters too.
It was a cool and intriguing book to found, recommended for people who likes twists and noir novel with a lot of intrigue.
Buy on: Amazon
Reseña: Recibí este libro por mi propia voluntad, a cambio de mi reseña honesta.
Bueno este, lo encontré en las reseñas de Tomoson y en realidad no me arrepiento de haberlo pedido.
La trama era muy pegajosa e interesante, al principio no entendía realmente cómo era la trama o qué hacer con ella, pero a medida que pasaba el tiempo y comencé a juntar todas las piezas, tenía más sentido y comenzó a cautivarme mucho
Los personajes fueron muy interesantes una vez que los conoces y sus circunstancias, fue un poco duro que Gabi, nuestra protagonista, simplemente se despertara sin saber nada. ¿Cómo sucedió? y luego realmente tienes algunos flashbacks y empiezas a unir toda su vida.
Ahora sí sé que esto será una trilogía y, en realidad, quiero saber un poco más sobre lo que le sucedió a Miller, y también a otros personajes.
Fue un libro interesante y fascinante de encontrar, recomendado para personas a quienes les gustan los giros y la novela negra con mucha intriga.
Cómpralo en: Amazon