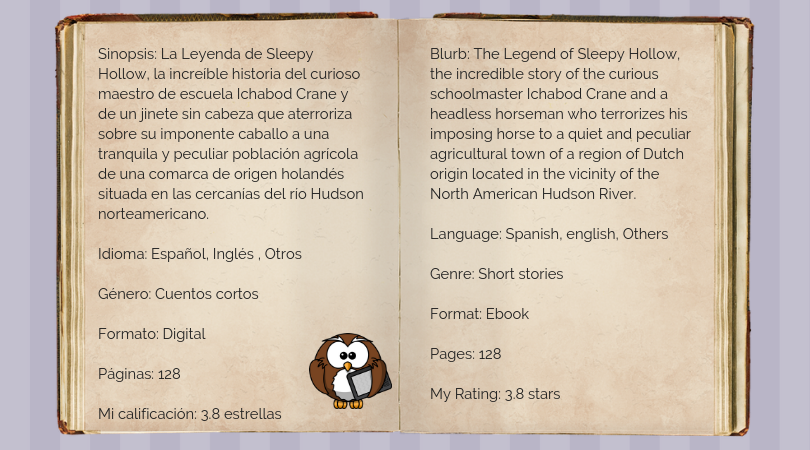 Reseña: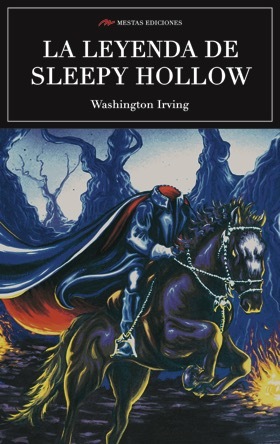 La Leyenda de Sleepy Hollow: Esta trata del jinete sin cabeza que aparece por los linderos de una iglesia algo apartada del poblado, me pareció interesante porque Ichabod, el maestro del pueblo es bastante supersticioso y a su vez tambien es algo pretensioso con sus estudiantes aunque muy humilde entre las familias que lo acogen. Me gusto mucho el tema de los fantasmas fue muy interesante y el hecho de que al pobre Ichabod le pasan cosas tan peculiares fue un plus. La halle más bien cómica que atemorizante pero quizás es porque es una leyenda que se ha vuelto muy popular y se han hecho muchas películas al respecto.
La Aventura del Estudiante Alemán: Esta me pareció aun mejor, que la primera la verdad, hubo mucho misterio y al final aunque corta me dejo con una sensación de temor bastante buena, esta pasa en Francia durante el periodo de los descabezamientos por guillotina y la verdad, nuestro estudiante sufre un amor algo trágico durante este tiempo.
Rip Van Winkle: La última de las historias del libro, entre cómica e irónica la verdad que me agrado como estaba narrada, el pobre Rip era muy desdichado y aun así creo que al final logró no solo ganarse a la gente sino tambien hacer su vida mejor luego de mucho, con poco esfuerzo y mucha suerte quizás.
Review:
The Legend of Sleepy Hollow: This is about the headless horseman that appears on the
edges of a church somewhat removed from the town, I found it interesting because Ichabod, the village teacher is quite superstitious and at the same time is also pretentious with his students although very humble among the families that welcome him. I liked the subject of ghosts very interesting and the fact that poor Ichabod had so much things happen to him was a plus. I find it more comical than frightening but maybe it's because it's a legend that has become very popular and many films have been made about it.
The Adventure of the German Student: This one seemed even better than the first, there was a lot of mystery and in the end although short I leave with a feeling of a quite good fear, this happens in France during the period of the headings by guillotine and really, our student suffers a somewhat tragic love during this time.
Rip Van Winkle: The last of the stories in the book, between comical and ironic I reallr liked how it was narrated, poor Rip was very unhappy and even so I think that in the end he managed not only to win over people but also to make his life better after a lot, with little effort and good luck maybe.