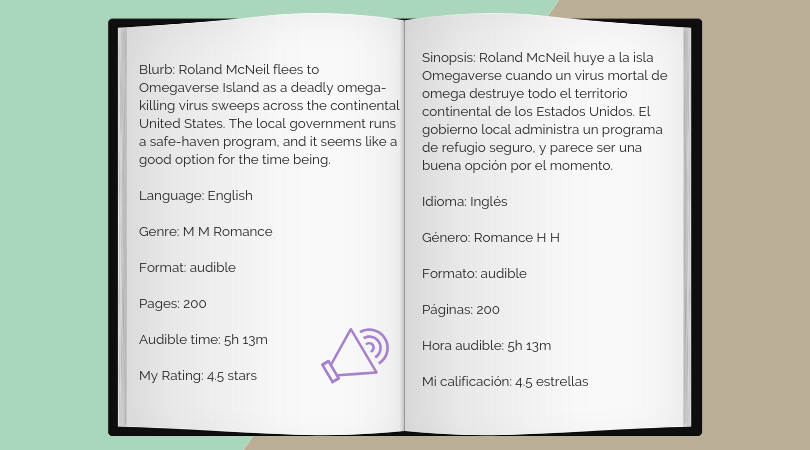 Review:
I was given this free review copy audiobook at my request and have voluntarily left this review.
Well just with cover it did catch my attention, I like omegaverse stories a lot, however this is the first one I hear on audiobook and was so pleased.
The plot was pretty interesting and had some good twists and erotic scenes, it did had bone too.
Roland was pretty cute and very trickster I loved him a lot and his alfa males were super hot.
The narrator was pretty good , I did have to accustom myself to him since his voice was a little blunt, but it did convey the sentiment of the story.
Buy it now:
Reseña:
Recibí este audiolibro gratis a cambio de una reseña honesta a mi solicitud.
Bueno, solo con la portada me llamó la atención, me gustan mucho las historias omegaverse, sin embargo, esta es la primera vez que escucho una en audiolibro y me gusto mucho.
La trama era bastante interesante y tenía algunos giros muy buenos, escenas eróticas y también tenía historia.
Roland era muy lindo y muy engañoso. Lo adore y sus machos alfa eran súper sexys.
El narrador era bastante bueno, tuve que acostumbrarme a él ya que su voz era un poco brusca, esto me paso mas que nada al principio, su voz era bastante grave, pero luego de un rato transmitía el sentimiento de la historia muy bien.
Cómpralo en: