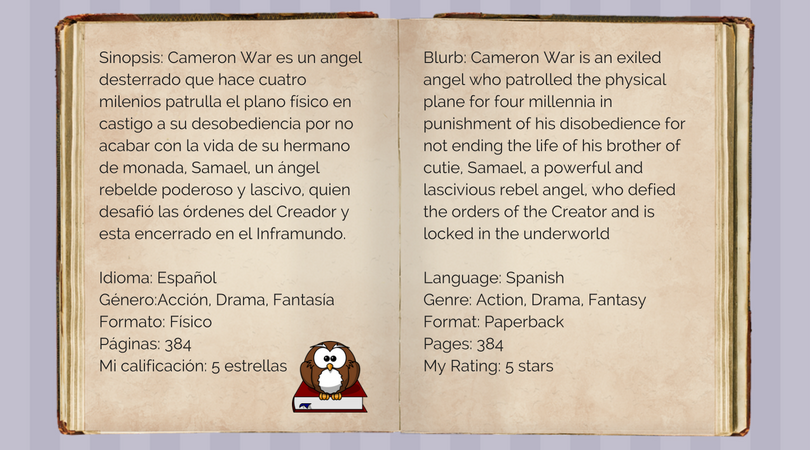 Mi Reseña:
Este me lo dieron para evaluarlo en mi trabajo y creo que halle una pequeña mina de oro.
Nunca pense que leer sobre un tema con tintes religiosos, algunos esotericos y un poco de vida semi normal me iba a encantar tanto.
Los personajes me gustaron un monton, eran tan complejos como cualquier persona y de verdad que eso me ayudo a conectarme con ellos.
La trama estuvo super interesante y me encanto aprender cosas nuevas sobre mitologia y hasta de teologia, este libro tenia de todo.
Algo que me parecio super entretenido fue el hecho de que estos angeles habian agarrado unas mañas bastante peculiares del mundo humano, la mas divertida de todas vociferar obsenidades a toda boca.
Espero continuar con el viaje en el siguiente libro, porque por lo que vi hay historia para rato.
My Review:
They gave this one to me to evaluate it in my work and I think I find a small gold mine.
I never thought that reading about a subject with religious overtones, some esoteric and a little semi-normal life would enchant me so much.
The characters I liked a lot, they were as complex as any person and it really helped me to connect with them.
The plot was very interesting and I loved learning new things about mythology and even theology, this book had everything.
Something that seemed super entertaining was the fact that these angels had grabbed some pretty peculiar tricks of the human world, the funniest of all was their foul mouth.
I hope to continue with the trip in the next book, because from what I saw there is history for a while.