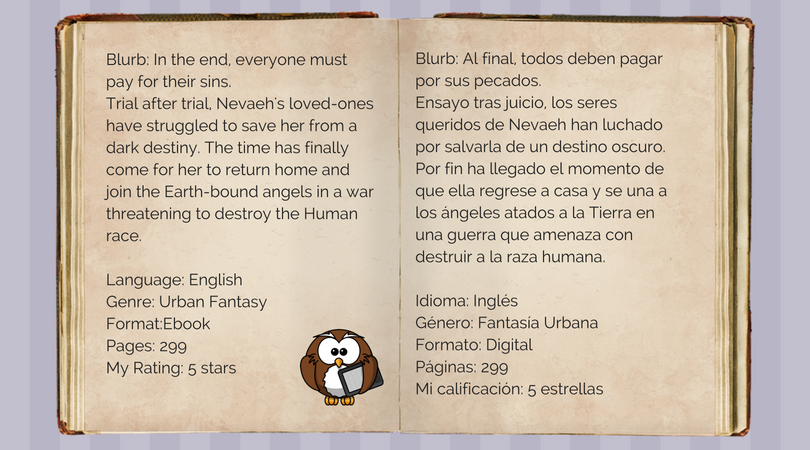 My Review:
I received this book from the author for an honest review.
Wao the end of the journey was so intense for me, between heaven, earth and hell I didn't knew what to expect anymore.
At somepoint I thought OMG this is it evil won what will be of the world but as there is shadows there's always light that shine bright.
I have to say that the losses I experienced here with some characters were heartbreaking since I was fond of them, but the hope it shone on other characters made me smile a lot and warmed my heart.
An amazing urban fantasy with a nice touch of spirituality.
Mi Reseña:
Recibí este libro del autor para una reseña honesta.
Wao, el final del viaje fue tan intenso para mí, entre el cielo, la tierra y el infierno que ya no sabía qué esperar.
En algún momento pensé que Dios mío el mal ganó, que será del mundo, pero así como hay sombras siempre hay luz que brillará.
Tengo que decir que las pérdidas que experimenté aquí con algunos personajes fueron desgarradoras porque los quería mucho, pero que la esperanza brillaba en otros personajes me hizo sonreír mucho y me derritió el corazón.
Una increíble fantasía urbana con un agradable toque de espiritualidad.