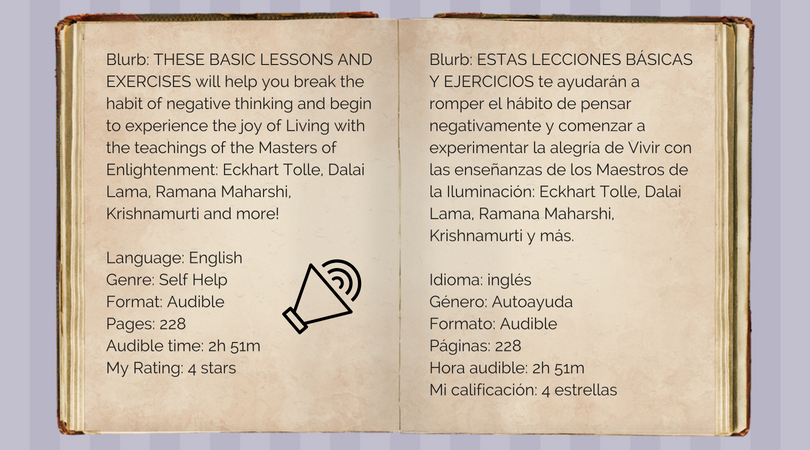 Living in The Now Review:
I received this book from the author for an honest review.
It was a pretty good reminder of how to stop the unnecessary chatter in our head and to focus more on life and in moments.
I think it's pretty good since we live in a chaotic world and sometimes we lost focus of what is really important in our life.
Stop Negative Thinking in 7 Easy Steps Review:
I received this book in exchange of an honest review.
One of the things I liked it's that the book doesn't promise a magical cure instead it says it will help you through whichever situation you may have.
I do think that this easy steps will help me get my negativism in check and make it easier for me to get by my life.
Vivir en el ahora reseña:
Recibí este libro del autor para una reseña honesta.
Fue un buen recordatorio de cómo detener la charla innecesaria en nuestra cabeza y enfocarnos más en la vida y en los momentos.
Creo que es bastante bueno, ya que vivimos en un mundo caótico y, a veces, perdimos el foco de lo que es realmente importante en nuestra vida.
Detener el pensamiento negativo en 7 pasos sencillos Reseña:
Recibí este libro a cambio de una crítica honesta.
Una de las cosas que me gustó es que el libro no promete una cura mágica sino que dice que lo ayudará en cualquier situación que pueda tener.
Creo que estos sencillos pasos me ayudarán a controlar mi negativismo y me facilitarán mi vida.