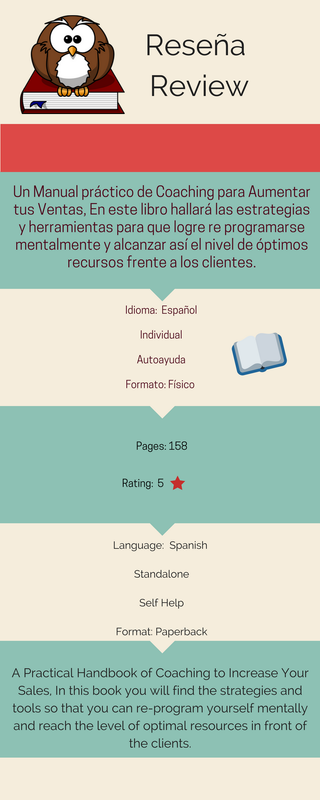 Reseña:
Me tomo un poco más de 30 días pero siento que con estos principios y mucha practica se puede mejorar muchas cosas en mi vida no solo en el aspecto profesional sino también en otros aspectos de mi vida.
Es un libro que recomendare a todos los que conozca para agregarles valor y convertir sus eventos en procesos y que vean que con práctica todas las circunstancias se pueden mejorar.
La verdad es un libro que se convertirá en mi guía y referencia para no perderme en este mundo lleno de información y que muchas veces es confuso.
Practicare mucho los procesos dados en el libro para mejorar varios procesos en mi vida, como las ventas consultivas, emprender en mi negocio, mejorar mis relaciones familiares.
Un gran libro que puede ayudar a muchos si se dan la tarea de comprometerse a cambiar íntegramente.
Review:
It took me a little more than 30 days but I feel that with these principles and a lot of practice, many things in my life can be improved not only in the professional aspect but also in other aspects of my life.
It is a book that I will recommend to everyone you know to add value and turn your events into processes and see that with practice all circumstances can be improved.
The truth is a book that will become my guide and reference for not getting lost in this world full of information and that is often confusing.
I will practice a lot the processes given in the book to improve several processes in my life, such as consultative sales, undertake in my business, improve my family relationships.
A great book that can help many if they give themselves the task of committing themselves to change in their entirety.