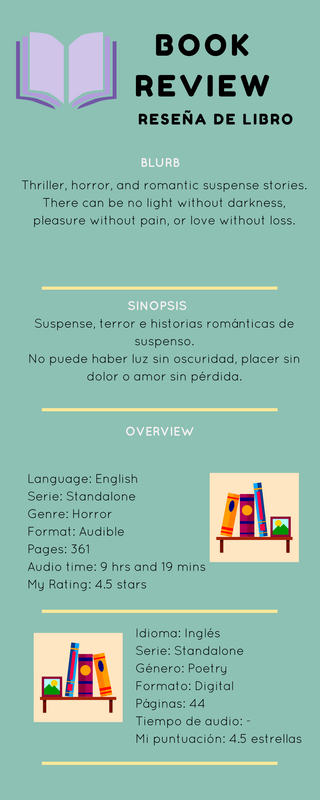 Review:
I received this book in exchange of an honest review.
I liked some stories more than other but they were all so creepy and interesting.
The way each author made they story and the characters so alive and relatable were amazing.
The narrator did bring to life these little snippets of horror, I'm glad to see the genre is so alive in these times and that it can be so diverse and rich.
Reseña:
Recibí este libro a cambio de una crítica honesta.
Me gustaron algunas historias más que otras, pero todas eran muy crepitantes e interesantes.
La forma en que cada autor hizo que la historia y los personajes tan vivos y con los que se podía relacionar eran increíbles.
El narrador dio vida a estos pequeños fragmentos de horror, me alegra ver que el género está tan vivo en estos tiempos y que puede ser tan diverso y rico.