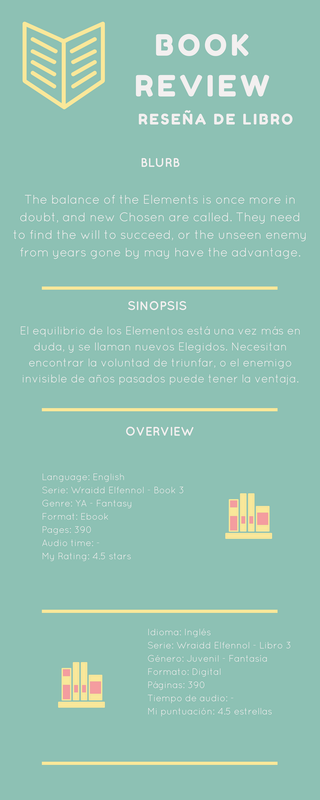 My Review:
I was given this book from the author for an honest review.
As it predecessor I liked this one a lot. It had a well balanced plot and the new chosen were pretty interesting, I always love the welsh references they make me so happy, for me these books are always so emotional, maybe because I connect so hard with the characters.
By the end of the book I was surprised the way this one connects with the second one, the author really thought it through and I liked that the last chosens were in this one too and that everyone was doing pretty fine and they were always so supportive.
A part that I found endearing was the stories that Bran collected they were absolutely amazing and the much he grow from the beginning of the book and towards the end. Rhosyn for me was pretty fun she was a little intense but it didn't bother me so much, she was endearing later.
My Reseña:
Recibí este libro del autor para una reseña honesta.
Como su predecesor, este me gustó mucho. Tenía una trama bien equilibrada y los nuevos elegidos eran bastante interesantes, siempre me encantan las referencias galicias me hacen tan feliz, para mí estos libros son siempre tan emocionantes, tal vez porque me conecto tan íntimamente con los personajes.
Al final el libro me sorprendió, la forma en que este se conecta con el segundo, la autora realmente lo pensó y me gustó que los últimos elegidos también estuvieran en este y que todo el mundo estuviera muy bien y que fueran tan comprensivos. .
Una parte que encontré entrañable fueron las historias que Bran recopiló, que fueron absolutamente increíbles y lo mucho que creció desde el comienzo del libro hasta el final. Para mí, Rhosyn fue muy divertida, ella era un poco intensa, pero no me molestó tanto, fue entrañable después.