Blurb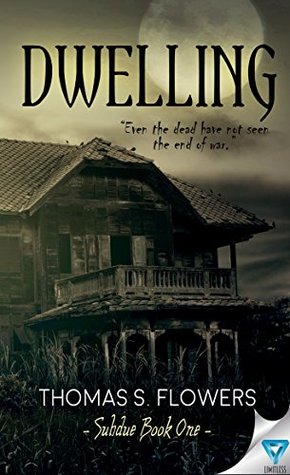 A group of inseparable childhood friends are now adults, physically and psychologically devastated by war…
A horrifying creature emerges from a sandstorm just before Ricky Smith dies in battle. Forced to leave base housing, his widow Maggie buys a home on Oak Lee Road in the town of Jotham. Maggie is isolated in the historic house…and disconcerted by strange clicking sounds inside the walls.
Jonathan Steele attempts to drink the painful past away…
Jonathan was wounded in that fateful battle and now suffers from PTSD. He wants to put the nightmare behind him, but when Ricky's ghost appears with cryptic warnings about Maggie's house, he begins to question his sanity.
Bobby Weeks is a homeless veteran struggling with a lycanthropic curse…
Afraid of bringing harm, Bobby stays far away from those he loves. But after a full moon, a mysterious woman approaches him and reveals a vision about a house with a sinister presence, and he realizes staying away might no longer be an option.
Minister Jake Williams lost his faith on the battlefield…
While Jake will do anything to reconnect with God, he turns to vices to fill the religious void. But a church elder urges him to take a sabbatical, and a ghost tells him to quit the ministry, and his life is more out of control than ever.
When Maggie wakes in a strange subterranean cavern, she can't deny her home harbors dark secrets. Desperate, she sends letters to her old friends to reunite in Jotham, and events conspire to draw them all to the house…unaware of the danger awaiting them.
The friends have already been through hell, but can any of them survive the evil dwelling beneath the House on Oak Lee?
Language
english
Series
Subdue – Book 1
Genre
horror
Reading Format
Pages
307 pages
Audio Time
7 hrs and 48 mins
Review
I received this book from the narrator of my own free will for an unbiased review.
And I liked it so much, it was so intriguing, beginning with the tale of this kids that when grown up went to war together and experience something pretty weird and even sinister together that ends in tragedy and from there a lot of interesting and creepy things began to take place and at the end I want, more than need to know what will happen next, because it's so intriguing since this house seem to be more alive than is said or more dead maybe? You should check this book out.
the narrator voice was so clear and the acting so accurate, I really immerse myself in the acting he delivered, it was like if I knew the people he was portraying it was amazing. this narrator has the kind of voice that will let you feel the story from beginning to end.
Rating
Sinopsis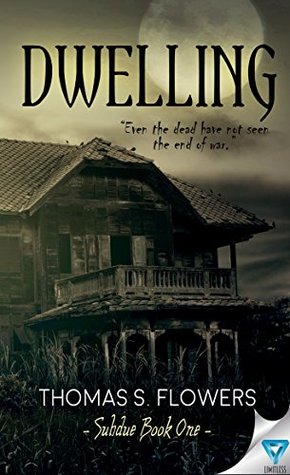 Un grupo de amigos de la infancia inseparables ahora son adultos, física y psicológicamente devastados por la guerra …
Una criatura espeluznante emerge de una tormenta de arena justo antes de que Ricky Smith muera en la batalla. Obligada a dejar la vivienda base, su viuda Maggie compra una casa en Oak Lee Road en la ciudad de Jotham. Maggie está aislada en la casa histórica … y desconcertada por extraños sonidos de clic dentro de las paredes.
Jonathan Steele intenta beber el pasado doloroso de distancia …
Jonathan fue herido en esa fatídica batalla y ahora sufre de trastorno de estrés postraumático. Quiere dejar atrás la pesadilla, pero cuando el fantasma de Ricky aparece con crípticas advertencias sobre la casa de Maggie, comienza a cuestionar su cordura.
Bobby Weeks es un veterano sin hogar que lucha con una maldición licantrópica …
Temeroso de causar daño, Bobby se mantiene alejado de los que ama. Pero después de una luna llena, una mujer misteriosa se acerca a él y le revela una visión de una casa con una presencia siniestra, y se da cuenta de que alejarse puede que ya no sea una opción.
El ministro Jake Williams perdió su fe en el campo de batalla …
Mientras Jake hará cualquier cosa para volver a conectarse con Dios, recurre a los vicios para llenar el vacío religioso. Pero un anciano de la iglesia lo insta a tomar un año sabático, y un fantasma le dice que abandone el ministerio, y su vida está más fuera de control que nunca.
Cuando Maggie se despierta en una extraña caverna subterránea, no puede negar que su hogar alberga oscuros secretos. Desesperada, envía cartas a sus viejos amigos para reunirse en Jotham, y los eventos conspiran para atraerlos a todos a la casa … sin darse cuenta del peligro que les espera.
Los amigos ya pasaron por el infierno, pero ¿puede alguno de ellos sobrevivir a la vivienda malvada debajo de la casa en Oak Lee?
Idioma
inglés
Serie
Subdue – libro 1
Género
horror
Formato de Lectura
Páginas
307 páginas
Tiempo de audio
7 hrs and 48 mins
Reseña
Recibí este libro del narrador por propia voluntad para una reseña imparcial.
Y me gustó tanto, fue tan intrigante, comenzando con la historia de estos niños que cuando crecieron fueron a la guerra juntos y experimentaron algo bastante extraño e incluso siniestro que terminó en tragedia y de ahí un montón de cosas interesantes y crepitantes empezaron a tener lugar y al final me sentí como quiero más, necesito saber qué sucederá después, porque es muy intrigante ya que esta casa parece estar más viva de lo que se dice o más muerta ¿quizás? Deberían leer este libro.
la voz del narrador era tan clara y la actuación tan precisa, realmente me sumergí en la actuación que pronunció, era como si conociera a la gente que retrataba era increíble. este narrador tiene el tipo de voz que te permitirá sentir la historia de principio a fin.
Calificación