Blurb
"Any sufficiently advanced technology is indistinguishable from magic…" Arthur C. Clarke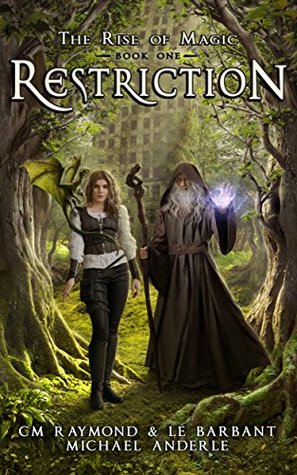 She didn't mean to use magic
She didn't even know she HAD magic
She just wanted to save her brother, who was dying in her arms.
Accused of using illegal magic, and sentenced to a cruel death at the hands of the city's guards, Hannah has no choice but to trust in the aid of a strange old man who wields unimaginable power.
The Founder has returned to correct the wrongs of unjust. But to do that, he needs Hannah, a young woman from the city slums. She has a key to unlocking a power even greater than his own–if she can only learn to trust herself and the magic flowing within her blood.
Restriction is a fantasy set in the far future, where magic and monsters ravage the land of Irth and only the strong survive.
Set on the foundation laid by the Kurtherian Gambit Series, Restriction tells an entirely new story in the Age of Magic–and of the heroes and villains who battle for control of its destiny.
Read now and Enter the Age of Magic…
Language
English
Series
Rise of Magic – Book 1
Genre
Fantasy, magic, sci-fi, dystopia
Reading Format
Pages
293 pages
Audio Time
8 hrs
Review
I received this book from the authors/editor/narrator of my own free volition for an honest review.
I don't regret asking for this book, it was so awesome really, I had my doubts at first since I was like damn really what a crappy town this poor girl lives in?
but the more you advance on the story and the more you understand what, when and how everything is coming to what you know now, it was like holy cow so hot a book, I need more
loved the lore, the mix of technology and magic that sometimes can be one and the same for some people, was so good really and the plot was pretty smooth. I had so mich fun with this book, it made me felt so many emotions and Hana is so going to kick some a s s e s really.
I don't if I should feel bad for Ezequiel or not I mean he did know something was going to happen just waoo not like that but hopefully we will know how all this progress in the next book.
And I do hope Hana makes Eidrian her b i t c h he need to be pawned seriously.
Will wait super anxiously the next book.
Rating
Sinopsis
"Cualquier tecnología suficientemente avanzada es indistinguible de la magia …" Arthur C. Clarke
Ella no quiso usar magia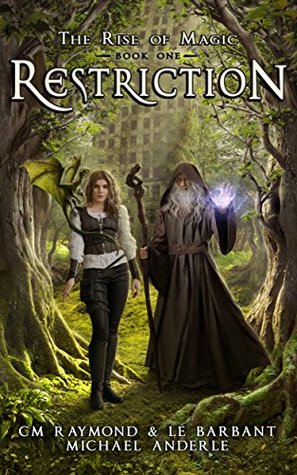 Ni siquiera sabía que tenía magia
Sólo quería salvar a su hermano, que estaba muriendo en sus brazos.
Acusada de usar magia ilegal y condenada a muerte cruel por parte de los guardias de la ciudad, Hannah no tiene otra opción que confiar en la ayuda de un extraño anciano que maneja un poder inimaginable.
El Fundador ha vuelto a corregir los errores de injusta. Pero para hacer eso, necesita a Hannah, una joven de los barrios bajos de la ciudad. Tiene una llave para desbloquear un poder aún mayor que el suyo, si sólo puede aprender a confiar en sí misma y en la magia que fluye dentro de su sangre.
La restricción es una fantasía ambientada en un futuro lejano, donde la magia y los monstruos devastan la tierra de Irth y sólo los fuertes sobreviven.
Restriction cuenta con una historia completamente nueva en la Era de la Magia – y de los héroes y villanos que luchan por el control de su destino.
Lee ahora y entra en la era de la magia …
Idioma
Inglés
Serie
Ascensión de la magia – Libro 1
Género
Fantasía, distopía, ciencia ficción, magia
Formato de Lectura
Páginas
293 páginas
Tiempo de audio
8 hrs
Reseña
Recibí este libro de los autores / editor / narrador de mi propia voluntad libre para una revisión honesta.
No me arrepiento de pedir este libro, fue tan impresionante realmente, tuve mis dudas al principio porque era como rayos realmente en qué ciudad de horror vive esta pobre chica?
pero cuanto más avanzas en la historia y más entiendes qué, cuándo y cómo todo está llegando a lo que sabes ahora, era como OMG es lo maximo este libro, necesito más
me encantó la sabiduría, la mezcla de tecnología y magia que a veces puede ser uno y el mismo para algunas personas, era tan bueno y la trama era bastante fluida. Me divertí tanto con este libro, me hizo sentir tantas emociones y Hana va a patear tantos traseros literal.
No se si me siento mal por Ezequiel o no, digo él sabía que algo iba a pasar no como pero si que pasaría, pero espero que sepamos cómo todo esto progresa en el próximo libro.
Y espero que Hana haga a Eidrian su esclavo o algo porque debe ser una tortura muy precisa.
Espero super ansiosamente leer el próximo libro.
Calificación