Sinopsis
Esta novela corta escrita por George Orwell (1903-1950) fue publicada en Inglaterra en
agosto de 1945. Según las palabras del autor, fue la primera vez que fusionó propósito político con el propósito artístico en una obra y hasta nuestros días se ha mantenido como una de sus obras más reconocidas por la sátira y crítica alegórica al comunismo estalinista. Orwell eraa un socialista democrático y los eventos vividos en sus años de participación en la Guerra Civil española le hicieron un duro crítico de la revolucón bolchevique.
"Rebelión en la granja" fue su forma de expresar su descontento, con el propósito de educar a sus lectores a través de la sátira.
Hoy en día considerada como una de las mejores obras literarias en inglés del último siglo.
Idioma
español, inglés, otros
Serie
individual
Género
clásico, ficción, dystopia
Formato de Lectura
Páginas
123 páginas
Tiempo de audio
3 hrs and 13 mins
Reseña
wao, bueno fue interesante. la verdad empecé con mucha esperanza con eso de la rebelión de lo animales pero veía cómo estaban cambiando las cosas para peor cada vez más y lo del cambio de los mandamientos fue la gota que derramó el vaso, porque quizás los animales en el libro no entendieran pero yo si lo hacía y veía venir lo peor hasta que al final, me di cuenta de que los pobres animales quedaron peor que como estaban al principio y es una realidad dolorosa a veces eso de que muchos trabajan para el bien común pero los que están arriba trabajan para su bien. lo peor del caso diría yo fue que estos pobres animales se dejaron y se convencieron de que en realidad todo estaba bien cuando desde un poco después del principio todo se fue desmejorando rápidamente.
Calificación
Blurb
As ferociously fresh as it was more than a half century ago, this remarkable allegory of a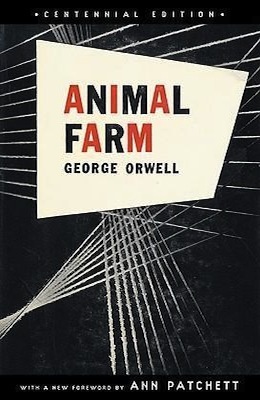 downtrodden society of overworked, mistreated animals, and their quest to create a paradise of progress, justice, and equality is one of the most scathing satires ever published. As we witness the rise and bloody fall of the revolutionary animals, we begin to recognize the seeds of totalitarianism in the most idealistic organization; and in our most charismatic leaders, the souls of our cruelest oppressors.
Language
english, spanish, others
Series
standalone
Genre
classic, fiction, dystopia
Reading Format
Pages
123 pages
Audio Time
3 hrs and 13 mins
Review
wao, well it was interesting. in fact I began with much hope with that of the rebellion of the animals but I saw how things were changed for worse and more and that of the change of the commandments was the drop that shed the glass, because the animals perhaps in the book did not understand but I did and I saw it until the last end, I realized that the poor animals were worse than they were at the beginning and it is a painful reality sometimes that many work for the common good but those who are above work for its sake the worst of the case I would say was that these poor animals were left and convinced that in reality everything was fine when shortly after the beginning everything quickly deteriorated.
Rating