Blurb
For popular high school senior Samantha Kingston, February 12—"Cupid Day"—should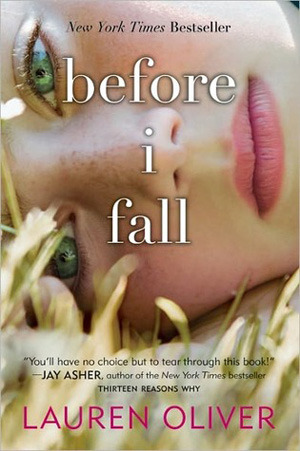 be one big party, a day of valentines and roses and the privileges that come with being at the top of the social pyramid. And it is…until she dies in a terrible accident that night.
However, she still wakes up the next morning. In fact, Sam lives the last day of her life seven times, until she realizes that by making even the slightest changes, she may hold more power than she ever imagined.
Language
english, spanish, others.
Series
standalone
Genre
YA, Contemporary, slice of life
Reading Format
Pages
470 pages
Audio Time
12 hrs and 25 mins
Review
I don't know why everyone loved this, I couldn't really feel anything but maybe rage and exasperation for this book and its characters, the protagonist was so annoying for me really and her friends were like for real? when I encountered those types of "friends" in my life I discarded them so fast, because I just couldn't put with a so superficial mindset and I didn't need the added drama.
I do think I do feel this way about this one because being bullied almost all my life I did find another ways to get a solution and for them to back off, even if that involved cops and all. Now this is sadly how a lot of teens see things, like they can only bully or be bullied and that's not entirely true, so I don't think it's a utterly bad book in that way, maybe people should be more aware of their younger adults problems so they can be solved without violence or ridiculing their peers.
Rating
Sinopsis
Samantha Kingston lo tiene todo a su favor: es guapa, es popular y sale con el chico
perfecto. El viernes 12 de febrero debería ser un día más en su fácil vida, pero no lo es: es el último día. O más bien los últimos, porque Samantha se despierta una y otra vez en la mañana del viernes 12 de febrero y vuelve a vivir la misma jornada siete veces… hasta que se da cuenta de que en su mano está realizar cambios minúsculos que supondrán diferencias enormes.
Idioma
inglés, español, otros
Serie
Individual
Género
Juvenil, Contemporáneo
Formato de Lectura
Páginas
470 páginas
Tiempo de audio
12 horas and 25 mins
Reseña
No sé por qué todo el mundo ama esto, no podía sentir nada más que quizás rabia y desesperación por este libro y sus personajes, la protagonista era molesta para mí realmente y sus amigas eran como de verdad? Cuando me encontré con esos tipos de "amistades" en mi vida las deseche tan rápido, porque simplemente no podía con una mentalidad tan superficial y no necesitaba el drama añadido.
Quizas es por como yo siendo una víctima de bulling en mi pasado y casi toda mi vida escolar, jamas me puse en esas cosas, más bien trataba de ver como solucionaba la situación ya fuera que tuviera que traer a la ley con todo y policías para que me dejaran en paz que usualmente era el resultado. Ahora bien, esto es tristemente cómo muchos adolescentes ven las cosas, que sólo pueden intimidar o ser intimidados y eso no es del todo cierto, así que no creo que sea un libro totalmente malo de esa manera, tal vez la gente debería ser más consciente de los problemas por los que pasan sus adultos más jóvenes para que puedan ser resueltos sin violencia o ridiculizando a sus compañeros.
Calificación