Blurb
In this breathless third installment to Victoria Aveyard's bestselling Red Queen series,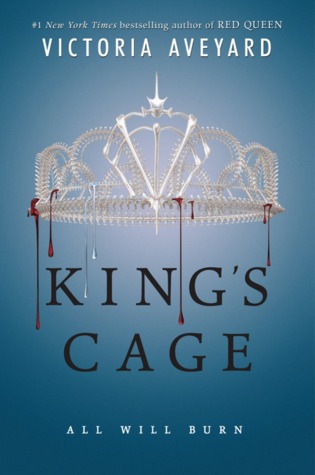 allegiances are tested on every side. And when the Lightning Girl's spark is gone, who will light the way for the rebellion?
Mare Barrow is a prisoner, powerless without her lightning, tormented by her lethal mistakes. She lives at the mercy of a boy she once loved, a boy made of lies and betrayal. Now a king, Maven Calore continues weaving his dead mother's web in an attempt to maintain control over his country—and his prisoner.
As Mare bears the weight of Silent Stone in the palace, her once-ragtag band of newbloods and Reds continue organizing, training, and expanding. They prepare for war, no longer able to linger in the shadows. And Cal, the exiled prince with his own claim on Mare's heart, will stop at nothing to bring her back.
When blood turns on blood, and ability on ability, there may be no one left to put out the fire—leaving Norta as Mare knows it to burn all the way down.
Language
english, spanish, others
Series
Red queen – Book 3
Reading Format
paperback
Review
OMG this one leave me on an edge. I need to know the end of this story soon or I will explode. this one was so charged with hope, betrayal, love and so many things. I liked how the characters grown with all the different choices they make and are still growing and how human they look like really. loved that this book have so much love in different manners truly masterfull in reflecting human nature, it was a surprise but a good one. now I dont know how i will survive another year to know the end bit i will wait anxiously
Rating
Sinopsis
En esta tercera entrega sin aliento de Victoria Aveyard más vendido de la serie Red Queen,
las lealtades son probados en todos los lados. Y cuando la chispa de la Chica Rayo se haya ido, ¿quién iluminará el camino para la rebelión?
Mare Barrow es una prisionera, impotente sin su relámpago, atormentada por sus letales errores. Ella vive a merced de un niño que una vez amó, un niño hecho de mentiras y traición. Ahora, un rey, Maven Calore sigue tejiendo la tela de su madre muerta en un intento de mantener el control sobre su país, y su prisionero.
A medida que Mare soporta el peso de Silent Stone en el palacio, su banda, una vez retorcida, de nuevos sangre y rojos continúan organizándose, entrenándose y expandiéndose. Se preparan para la guerra, ya no pueden permanecer en las sombras. Y Cal, el príncipe exiliado con su propia reclamación sobre el corazón de Mare, no se detendrá ante nada para traerla de vuelta.
Cuando la sangre se convierte en sangre, y la habilidad en la capacidad, no puede haber nadie a la izquierda para apagar el fuego, dejando Norta como Mare sabe que se quema todo el camino.
Idioma
inglés, español, otros
Serie
Reina Roja – Libro 3
Formato de Lectura
libro físico
Reseña
OMG este me dejao en el borde. Necesito saber el final de esta historia pronto o explotaré. Éste estaba tan cargado de esperanza, traición, amor y tantas cosas. Me gustó cómo los personajes crecieron con todas las diferentes opciones que hacian y siguen creciendo y lo humano que parecen realmente. Me encantó que este libro tenga tanto amor en diferentes maneras verdaderamente magistral en la reflexión de la naturaleza humana, fue una sorpresa, pero una buena. Ahora no sé cómo voy a sobrevivir otro año para saber el final pero voy a esperar ansiosamente
Calificación