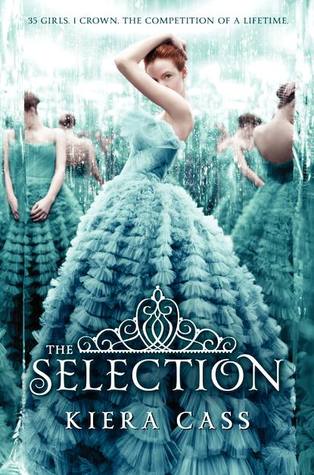 Blurb:
For thirty-five girls, the Selection is the chance of a lifetime. The opportunity to escape the life laid out for them since birth. To be swept up in a world of glittering gowns and priceless jewels. To live in a palace and compete for the heart of gorgeous Prince Maxon.
But for America Singer, being Selected is a nightmare. It means turning her back on her secret love with Aspen, who is a caste below her. Leaving her home to enter a fierce competition for a crown she doesn't want. Living in a palace that is constantly threatened by violent rebel attacks.
Then America meets Prince Maxon. Gradually, she starts to question all the plans she's made for herself—and realizes that the life she's always dreamed of may not compare to a future she never imagined.
Series: 1 of 5, various short stories
Review:
an exceptional read, I really love it.
I love the plot, 2 gorgeous men and 1 cool girl, what i liked more is that is not your typical i fell in love at first sight and wao it could be so hilarious at times too jajaja.
loved the drama involving maxon and america "friendship" and holy cow why aspen just go away ajajajaj, nothing personal with him but he can go find someone else.
it got me super entangled with the read when i did see america wasn't your typical i want a prince charming to get me but a real girl just wanting love and having her heart broken and finding something else where she tough was going to be so terrible a experience.

Sinopsis:
Para treinta y cinco chicas, la Selección es una oportunidad que solo se presenta una vez en la vida. La oportunidad de escapar de la vida que les ha tocado por nacer en una determinada familia. La oportunidad de que las trasladen a un mundo de trajes preciosos y joyas que no tienen precio. La oportunidad de vivir en un palacio y de competir por el corazón del guapísimo príncipe Maxon.
Sin embargo, para America Singer, ser seleccionada es una pesadilla porque significa alejarse de su amor secreto, Aspen, quien pertenece a una casta inferior a la de ella; y también abandonar su hogar para pelear por una corona que no desea y vivir en un palacio que está bajo la constante amenaza de ataques violentos por parte de los rebeldes.
Es entonces cuando America conoce al príncipe Maxon. Poco a poco, se empieza a cuestionar los planes que ella había hecho para su vida y se da cuenta de que la vida con la que siempre soñó puede no poder compararse con el futuro que nunca se atrevió si quiera a imaginar.
Serie: 1 de 5, varias historias cortas
Reseña:
una lectura excepcional, realmente lo amo.
Me encanta la trama, 2 magníficos hombres y 1 chica cool, lo que me gustó más es que no es el típico me enamoré a primera vista y WAO a veces puede ser tan hilarante jajaja.
y amo el drama de Maxon y su "amistad" con America y por dios Aspen solo vete ajajajaj, nada personal con él, pero él puede ir a buscar a otra persona.
me atrapo esta historia y mas cuando vi que America no era la típica chica de quiero un príncipe azul, sino que sólo quiere el amor y tiene un corazón roto y una búsqueda de algo más en la que penso iba a ser una experiencia terrible.