Sinopsis:
Ambientada en un reino imaginario, esta novela nos muestra a una sociedad dividida por el color de la sangre. Por un lado está la gente común que tiene sangre roja; por el otro tenemos a aquellos que poseen sangre plateada y que tienen habilidades sobrenaturales. Estos últimos forman una élite cerrada y llena de privilegios. La protagonista es Mare, una chica de sangre roja que sobrevive en medio de la pobreza realizando pequeños robos. Cierto día, el azar la lleva a la corte. Allí demuestra tener poderes especiales, los cuales resultan insólitos para alguien del pueblo. Ello la convierte en una anomalía que llama la atención del mismísimo rey. Éste desea aprovechar en su beneficio los poderes de la joven y la hace pasar por una princesa, quien supuestamente se casará con uno de sus hijos. Una vez en la corte, Mare se convierte en parte del mundo de plata y, de manera secreta, ayuda a la Guardia Escarlata, un grupo que prepara una rebelión.
Serie: Trilogía, 2 cuentos cortos
Reseña:
Oh, Dios mío, por fin pude leerlo y era un libro tan impresionante con una trama tan intrincada.
Ame a Mare ella es tan fuerte o tratar de ser, me gustó mucho Maven y luego el horror, Cal bueno aun me reservo mi opinion aunque creo que era de los buenos, los giros de la trama eran tan interesantes e inesperados, algunos de ellos no los vi venir.
Me gustó cómo Victoria describió el mundo y los personajes como se desarrollaron a lo largo del camino y WAO alguien puede ser realmente tan retorcido, no puedo esperar a leer el segundo y ver lo que está pasando y cómo esto llegara al final.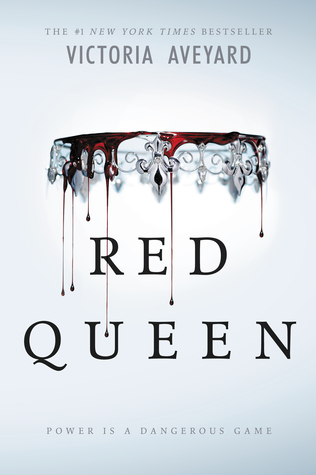 Blurb
This is a world divided by blood – red or silver.
The Reds are commoners, ruled by a Silver elite in possession of god-like superpowers. And to Mare Barrow, a seventeen-year-old Red girl from the poverty-stricken Stilts, it seems like nothing will ever change.
That is, until she finds herself working in the Silver Palace. Here, surrounded by the people she hates the most, Mare discovers that, despite her red blood, she possesses a deadly power of her own. One that threatens to destroy the balance of power.
Fearful of Mare's potential, the Silvers hide her in plain view, declaring her a long-lost Silver princess, now engaged to a Silver prince. Despite knowing that one misstep would mean her death, Mare works silently to help the Red Guard, a militant resistance group, and bring down the Silver regime.
But this is a world of betrayal and lies, and Mare has entered a dangerous dance – Reds against Silvers, prince against prince, and Mare against her own heart.
Series: Trilogy and 2 short stories
Review:
Oh my god, at last I could read it and it was such an amazing book with such an intrincate plot.
Loved Mare she is so strong or try to be, I really liked Maven and then the horror, Cal well, the plot twists were sooo cools and unexpected, some of them I didn't see it coming.
I liked how the world and the characters developed along the way and wao how twisted can someone be really, I can't wait to read the second one and see what's happening and how this will all end.