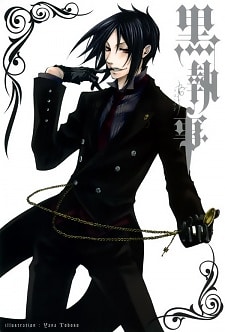 This manga is one of my favorites and is still ongoing, I hope it's doesn't end in a long time to be honest.
The story is pretty dark but it have a lot of fun too.
You have Ciel our protagonist the son of an earl that has lose everything and is in a desperate situation and strike a deal with a demon's: revenge in exchange for his soul.
Sebastian, the demon Ciel strikes the deal with, is a hell of a butler and the two of them will embark in this revenge quest with all the interesting characters in the story.
Is a pretty victorian manga that will make you laugh and wonder what else is around the corner.
Actually is on chapter 105 and it has an anime with 2 season, 2 ovas, 4 tv special, a mini story of 10 episodes and a Live action Movie.
What I like of this manga it's that the context being dark and all is pretty consistent and interesting, the characters mostly all have a tormented past and they try their best to overcome all the ugliness of this world while trying to do what they can for others.
It has lots of plot twists here and there and I like that everything is so neat, the design of the characters is awesome too I really like that care for details it have.
So I hope if you read you have a fantastic journey in this Dark England with all the amazing characters.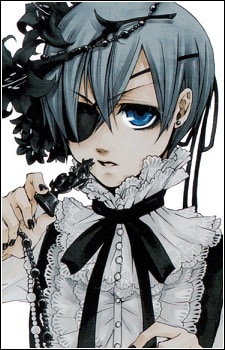 Este es uno de mis mangas favoritos y aun lo están publicando, espero no se acabe en un buen tiempo la verdad.
La historia es bastante oscura pero también tiene su parte divertida.
Tenemos a Ciel nuestro protagonista que es hijo de un conde y aparte de perderlo todo se encuentra en una situación bastante desesperada por lo que hace un trato con un demonio: su venganza a cambio de su alma.
Sebastián, el demonio con el que Ciel hace el trato, es un gran mayordomo y ambos se embarcan en esta búsqueda de venganza con todos los personajes interesantes de la historia.
Es un hermoso manga victoriano que te hará reír y te mantendrá al borde de todo lo que pasa.
Actualmente está en el capítulo 105 y tiene un anime con 2 temporadas, 2 ovas, 4 especiales, una mini historia de 10 capítulos y una película.
Lo que más me gusta de este manga es que aunque el contexto es oscuro es muy consistente e interesante, los personajes casi todos tienen alguna historia tormentosa y tratan de sobrepasar todas estas circunstancias tratando de hacer lo que pueden por otros.
Tiene varios giros a través de la historia y me gusta que todo es nítido, los diseños de los personajes es increíble también y ese cuidado en los detalles es valioso.
Espero que si lo leen, disfruten de este fantástico viaje por una Inglaterra Oscura con estos increíbles personajes.