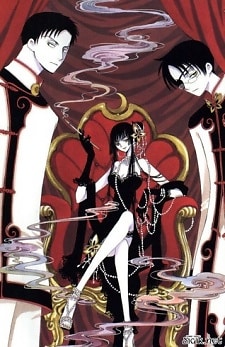 This manga by clamp is absolutely fun and a little dark not that much, and if you likes paranormal and magic this manga is a must.
It tell the story of Watanuki a young man that stumbles upon a very curious shop and her owner Yuuko, has the power to grant wishes.
The story develops in a good pace since it's a little long with 19 Volumes and 213 Chapters.
I really love the art that clamp makes, it's pretty beautiful and enticing, and the characters are very lovable too.
This one have an anime with two seasons, one movie and four ovas, so you will have a good time of fun.
Este manga de clamp es absolutamente divertido y un poco oscuro no tanto, si te gusta
lo paranormal y la magia este manga es un must.
El manga cuenta la historia de Watanuki un joven que se topa con una tienda muy curiosa y su dueña Yuuko, tiene el poder de conceder deseos.
La historia se desarrolla con buen ritmo, ya que es un poco larga, con 19 volúmenes y 213 capítulos.
Me encanta el arte de clamp, es extremadamente bonito y atractivo, y los personajes son fáciles de querer también.
También tiene un anime con dos temporadas, una película y cuatro ovas, por lo que tendrán un buen rato de diversión.